Social Security, disability, SSI, & SSDI get confused a lot.  Unless you spend your time working with these terms, it is hard to make sense of which program is for which need.  Here's a short description of Social Security and Disability benefits.  
Social Security &

SSI
Supplemental Security Income (SSI) is a program through the Social Security Administration (SSA) designed to provide a monetary benefit to Americans who are older than 65, blind, or disabled. SSI is needs-based, meaning that the beneficiaries must be below a certain asset threshold. And they must have limited income, and/or income earning potential.
SSI is often paired with Medicaid, administered by individual states. Recipients of SSI often also qualify for food stamps.
Social Security &

SSDI
Social Security Disability Insurance (SSDI) is similar to an insurance program you might buy into for the contingency that you might become unable to work due to an injury in the future. In actual fact, it is essentially that – an insurance program. Though, it's not really opt-in if you're employed; you pay (or paid) into it through payroll taxes.
The payout for SSDI is typically higher than SSI, but it requires that you have a relatively recent work history, to base the amount of your benefits on.  Beneficiaries become eligible for Medicare after two years of being on SSDI.
Is Social Security the Same As Disability?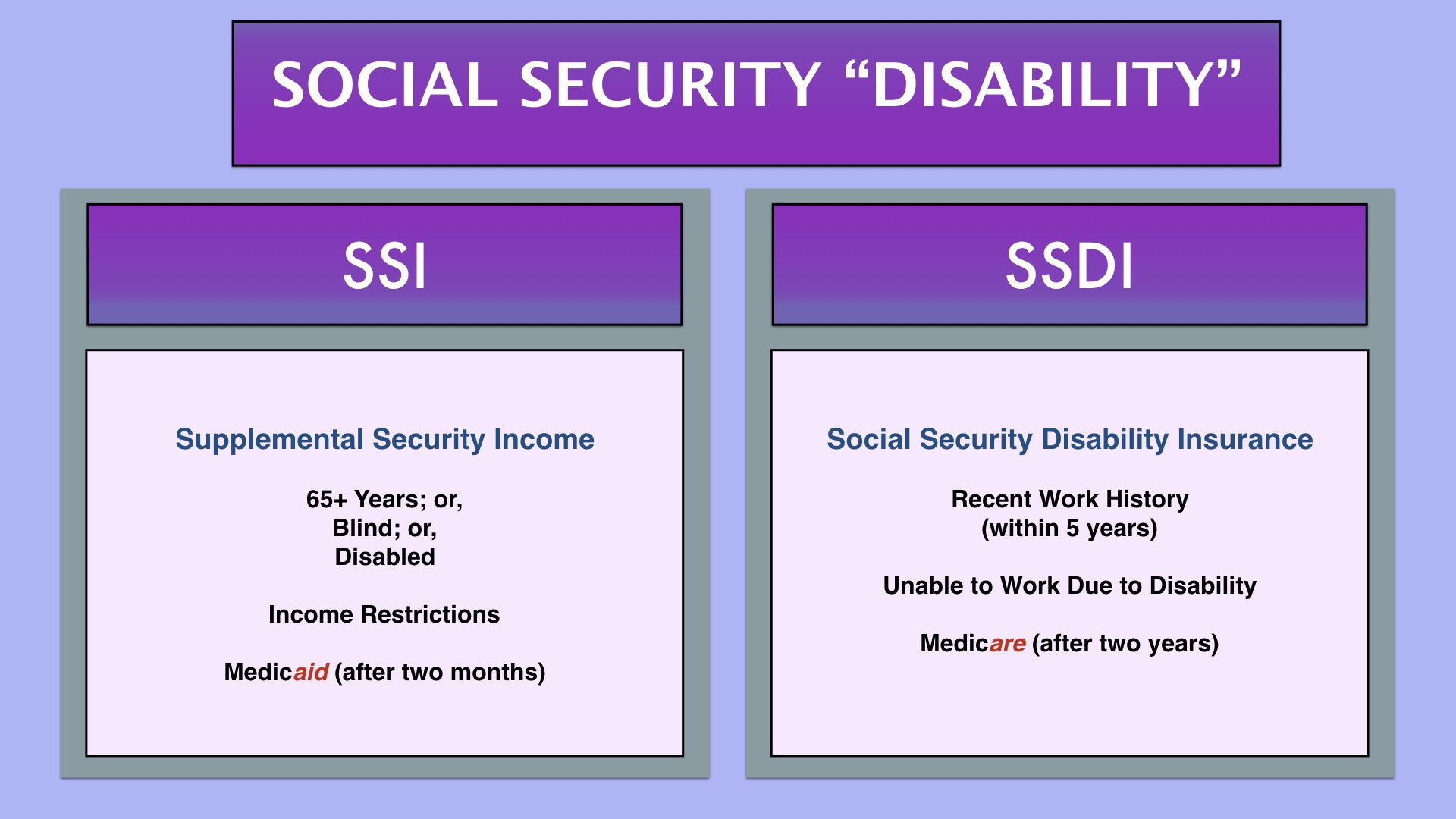 The confusing issue here is that the term, "disability," could refer to both SSI & SSDI. When in fact the two benefits, SSI & SSDI, are for people with different experiences, backgrounds, & current challenges. And, in addition, the two programs have different requirements, awards, goals, and funding streams.
So, from a basic terminology perspective, Social Security is Disability, though it can refer to more than just that. Likewise, disability can refer to either SSI or SSDI, or even some VA & states' benefits.
Regardless of how mixed up this conversation has gotten you, feel free to reach out for help in understanding the difference in the programs.  You can also browse the rest of our blog for answers to questions like this and others regarding disability.